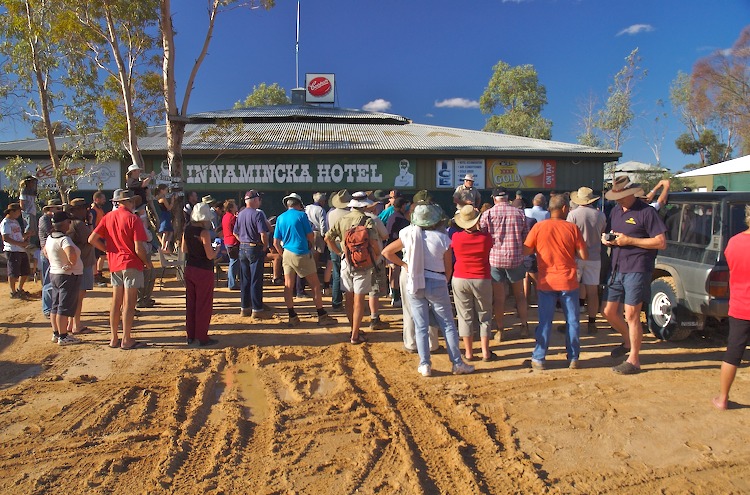 Now, on the fourth day of our unexpectedly long stay in Innamincka, we heard word that "The Police" would fly in by helicopter to assess the situation. There were about 50 vehicles with perhaps 150 people now camping on the banks of the Cooper Creek. Others had found accommodation in the Hotel, the Store and the Farmstay bunkhouse.
We believe that it was only through the actions of the bus driver, whose 18 elderly passengers were running out of medication, that brought our dilemma to the attention of the authorities. The situation became known to the media and we made the headlines – briefly. We gathered outside the hotel at the appointed time and waited. And waited. Then waited some more.
The helicopter landed about 2 hours later than expected. By then, after spending that time in the sun, some people were getting somewhat frustrated.
This photograph records the South Australian police sergeant (in the hat, to the right of the "Ice" sign on the hotel wall) doing a reasonable job of dowsing the flames.
He was accompanied by two police constables and a paramedic. The latter commented he had never delivered so much hypertension medication to one group of people before.
The message to us was that we "should" stay put (a suggestion rather than a direction) until the roads had dried out, else risk heavy fines and the possibility of getting bogged.
… so we waited some more.